As sensors, data, and real-time decision-making transform manufacturing, M12 connectors deliver the speed, reliability, and ruggedness that smart factories demand.
Global tech analysts predict that more than 20 billion devices will be connected by 2020, and that the Industrial Internet of Things (IIoT) will be a $200 billion market by 2021. In the simplest terms, the IIoT is real-time data connection, driven by processing and transmitting data at faster speeds, on progressively smarter and smaller machines.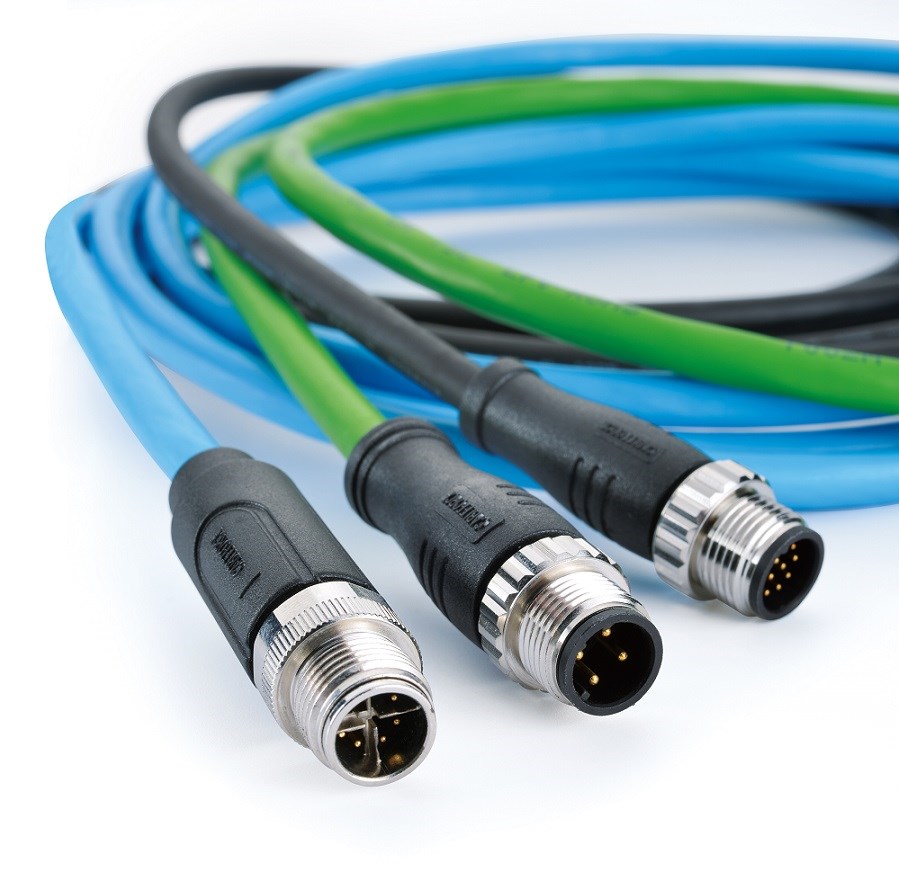 The ultimate value of the IIoT, however, goes beyond data collection and transmission. It encompasses the complete visibility and control of virtually all electromechanical factors in the manufacturing process, empowering companies to move beyond descriptive and diagnostic analysis to predictive intelligence and preventive action. Quantifiable benefits include the ability to identify disruptions, such as product or process variance, and circumvent or redesign to avoid these issues. Plant operators can discover unused capacity, reduce maintenance costs and downtime, improve safety, and maximize overall equipment effectiveness (OEE).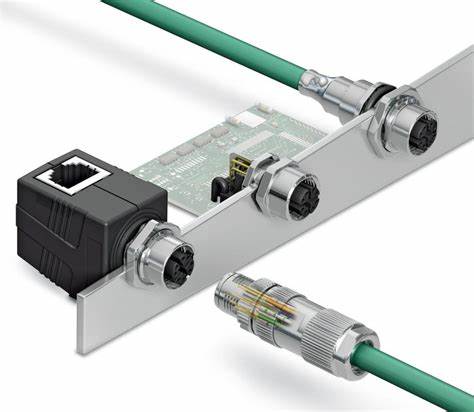 A comprehensive view of the manufacturing process or assembly line is accomplished by placing networked sensors on physical equipment to collect data. These sensors perform condition monitoring, analyzing constant input like temperature, vibration, or sound frequencies. This data is transmitted back to a central location or cloud where decision makers can access it. This process requires reliable high-speed connections, often in environments that include dust, noise, temperature changes, and vibration; in the food and beverage industry, it also includes the challenge of frequent washdowns.
Connectors act as the vital link between the cables carrying data and the devices that record and communicate information. The demand for faster data transmissions that can accommodate visuals has driven the development of connectors able to support the gigabit data requirements for the latest sensors. To add to the complexity, machines are getting smaller, putting pressure on component makers to deliver greater speed, power, and capacity in an ever-shrinking footprint.
The ABCs of M12 connectors: coding, pins and locking systems
Introduced in 1985, the M12 connector has built a decades-long track record as one of the most reliable connectors for industrial applications. Once used primarily by automobile manufacturers, the M12 has become the industry standard in factory automation, autonomous robotics, communication, measurement and control, and many other applications.
Coding
On the plant floor, personnel need to be able to disconnect existing connectors for maintenance and install new connectors on newly-laid cables quickly, especially where connections must remain dust- or water-tight. M12 connectors are easily installable and clearly coded to reduce the chance of accidental mis-mating.
For signal and data transmission:
A-coded for sensors, dc power
B-coded for PROFIBUS
D-coded for 100Mbit Ethernet and Profinet
X-coded for 10Gbit Ethernet (See Figure 2.)
M12 coding for power supplies:
S-Coded and K-Coded connectors are designed for ac power supplies up to 630 V/16 A. Ideal power connector for applications including: ac motor and drives, motor control switches, and frequency inverters.
T-Coded and L-Coded connectors are designed for dc power supplies up to 63 Vdc/16 A. (See Figure 3.) Ideal power connector for low-voltage applications including: dc motor and drives, fieldbus Ethernet components, network devices, and LED lighting fixtures.
Pins
M12 connectors are available with 3, 4, 5, 8, or 12 pins. The ideal pin count depends on the application. For example, most sensors and power applications use 3 or 4 pins, where Profinet and Ethernet use 4- and 8-pin counts. (See Figure 4 for examples.)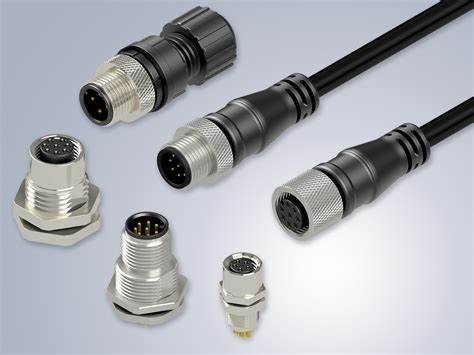 Locking systems
There are three basic types of locking systems on an M12 connector:
• Push-pull: Locks easily and securely, with an audible click indicating that the proper connection has been established.
• Threaded coupling: A threaded nut on the plug is mated with a corresponding set of threads on the receptacle.
• Bayonet: An interconnect mating design that uses pins on the receptacle and ramps on the plug for quick-connect and disconnect coupling.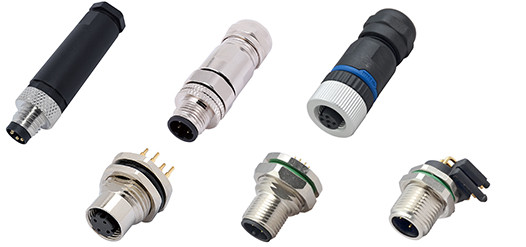 Elecbee is a store that sells a variety of electronic products. Our cable connectors are purchased with high quality and competitive prices from China's original equipment manufacturers. There are more questions to give us a message. Elecbee electronics engineers provide the most professional answers to help you choose the correct and secure connector.